Hello All!!
I am sure that you all are wondering what happened to Summer? I know living in New Jersey we received rain just about every-weekend. Our beach time was limited to about six visits this year…The beauty of living close to the ocean is that we can still enjoy the beach in September and October….
This fall I will begin my blogging adventure sharing with you many of my design and decorating tips along with some of my favorite products and resources. The kick off begins with this give away! Four beautiful pillow covers to update you home by Woven.Nook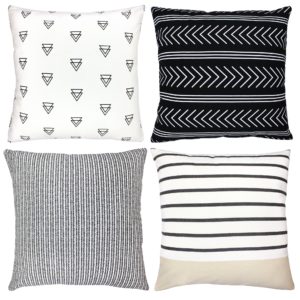 Here are the rules
Like the photo on instagram
Follow @harmonizinghomes and @woven.nook
Tag three people when sharing the original post. Every person who has completed all of the criteria will be entered into the giveaway
Winner will be announced Tuesday September 11th.
For those that do not know me here is a short version of my bio is below:
President, Lead Design Specialist
Corinne Villani Kaas has been focused on the design and merchandising of resale properties since 2009 when she founded Harmonizing Homes. Having studied at the New York School of Interior Design, she brings her unique skills and creativity to every project no matter the size. In addition to staging and designing homes, Corinne's experience includes project management, and full service interior design services. Corinne isa visionary and advocates continuing education, leading her team by staying current and on trend within her industry.
She is currently servings as Real Estate Staging Association (RESA) New Jersey Chapter Vice President.
She and her team are the recent recipient of the Real Estate Staging Association Top 10 Designers of 2017 and 2018 and Real Estate Staging Association Home Stagers of the year in the Occupied category for the United States.