It is the Holiday Season once again. We all have so much to do between our social calendars, shopping, decorating and entertaining. I love to entertain however, through out the years of doing so I have discovered that it is much more enjoyable if you limited your guest to eight at a time for dinner. I would rather have several smaller dinner parties where we can actually engage in conversation with each other than a house filled with 50+ people (been there, done that, not fun). First, it is extremely costly, second, you do not get to speak to everyone, and third, you have a huge clean up at the end of the evening and your exhausted.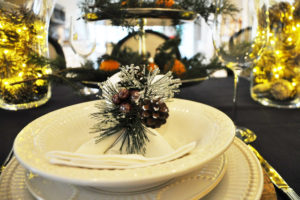 Here is a tablescape that we did for a recent dinner party at our home. First, I picked a table cloth that was a dark navy blue. I picked blue so that I wasn't pigeon holding the table cloth for the holiday season's only. I choose white napkins and a decorative napkin ring to make to more festive. The dishes are lenox butler pantry collection. The flatware is Towle by Regency purchased at William Sonoma. The charger, table cloth, napkins and rings from Home Goods.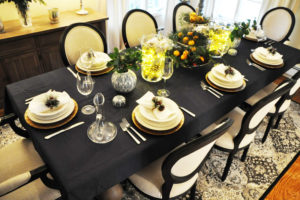 I filled two of my Simon Pearce vases with silver pine cones and added micro led string lights from Pier One. I had the little clementines left in the refrigerator since Thanksgiving (don't judge they were fine). I added them to a tiered plate with greens that I cut from my back yard and a few from my neighbors (sorry Leo).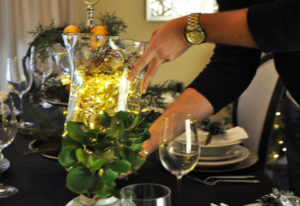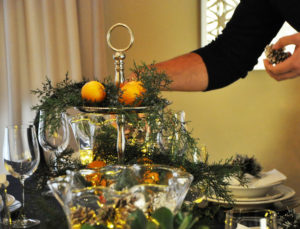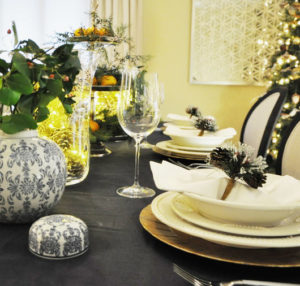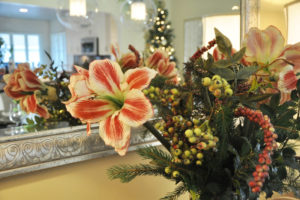 The Menu
Cheese and Spinach Ravioli
Roasted Yellow Beets with a Shallot Vinaigrette
Slow roads filet of beef with Basil Parmesan Mayonnaise – from the Barefoot Contessa Cookbook
Parmesan Chive Smashed Potatoes – From Barefoot Contessa Cookbook
Broccoli and Pancetta Roasted with a dash of Balsamic
French Apple Tart
We had fun with this tablescape and that is what it is all about…low stress, use what you have and get creative. Here is our complete photo layout. If you want any of the recipes please email me at [email protected]