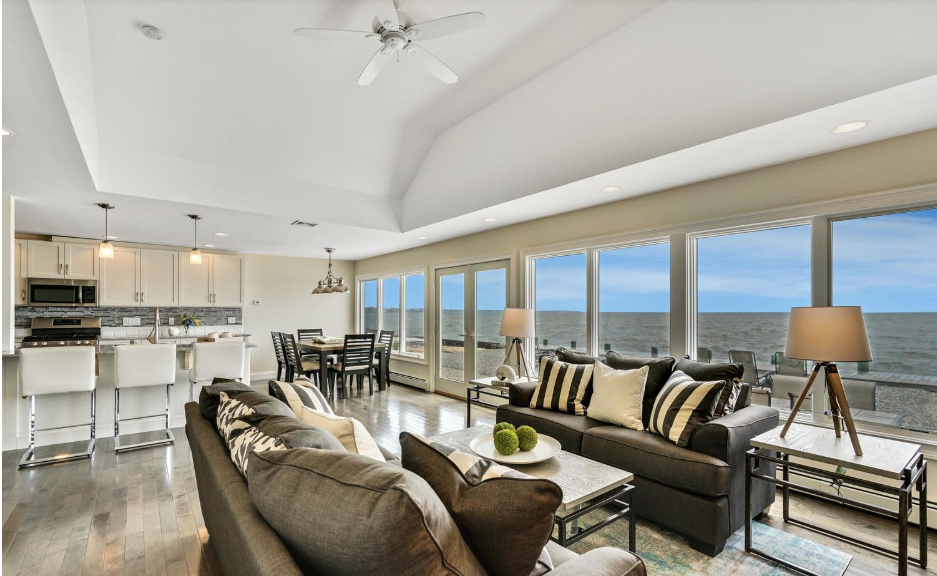 The secrets to successfully sell your home during the summer.
Do you know the most popular time of year to sell a home? If you were guessing the fall or winter, you would be mistaken. Most homeowners are looking to make a move into a new home during the spring and summer months when kids are out of school, everyone is enjoying the gorgeous weather, and venturing outside is more enjoyable. As you know, New Jersey can have brutally cold winters and chilly spring seasons so a large portion of people choose to take advantage of the warmth of the sun in order to transfer into a new home. Even if you have a truly spectacular home, there are many other homeowners looking to move as well so it is crucial that you give yours the boost it needs to sell in the most efficient way possible. Now, you may be wondering, "How can I elevate my home's odds of selling?" We've got the answer, tasteful staging that really makes the most of what the summer season has to offer. Successfully staging a home will allow potential buyers to build a strong emotional connection to a space and will encourage them to feel more confident when making a house their future residence. Our award-winning and creative team at Harmonizing Homes has been beautifying houses all across New Jersey with delightful designs and jaw-dropping interior layouts for years and possesses the unique insights necessary to give any listing the eye-catching look it needs to sell.

The longer a home sits on the market, the more buyers wonder what the issues are with it, so keep negative thoughts out of potential buyer's heads and ensure that your home sells in the quickest way possible during the most competitive time of year with these tips from our innovative team! To us, nothing is more special than trusting us to enhance your home's charm so that potential buyers can visualize their future.

Let There Be Light

When selling a home, few factors are more important than light. With the right amount, a space can feel more open, larger, and all-around more comforting. During a season where everyone wants to be outside, creating an uplifting vibe by taking advantage of the sun is essential. If you have large drapes or plants blocking the sun, remove them and use light-colored and lightweight window treatments. Is your home located near the beach? Add in enjoyable shore-themed accents that bring everyone's favorite vacation destination indoors. When potential buyers make their way into your terrifically staged space, their eyes will light up when they are greeted by a wealth of sunshine.

Flower power

The summer season is loaded with bright and vivid colors that truly capture the essence of the season. We love incorporating colorful flowers into the interior of homes that we stage to truly "wow" potential buyers and leave them with a memorable first impression. From beautiful flowers on a kitchen island to vibrant plants on a coffee table, there are so many opportunities to give your home a rich, organic, and lively feel.

Deck It Out

Does your home have a cozy and cute outdoor space? Don't just leave it looking all boring! Whether it is a small deck or patio, get potential buyers excited by staging it with a table, chairs, colorful accent pillows, or even an area rug. If there is enough space for a dining area, adding additional plates and a centerpiece will add to the look in a marvelous way as well.

Cool as a Cucumber

As you know, the weather in New Jersey can really heat up during the summer season so be sure that you keep your home nice and cool! Provide potential buyers with an escape from the warmth by creating your own comforting oasis where they can let their guard down and truly experience what it would feel like to reside in your home. Not only will turning up the air conditioning help but offering refreshments will benefit you as well. From water to lemonade, everyone loves a satisfying, ice-cold beverage.

When the market is competitive, each and every detail can make a world's difference, which is why we put our everything into creating stellar designs that allow homes across New Jersey to be sold in the most efficient way possible. Gone are the days of homeowners selling homes with barren and empty rooms. Today, buyers want to see lively, wonderful designs that genuinely showcase what a property has to offer. From locating the right paints to selecting the right fabrics to finding the best local painters, we will do whatever it takes to bring a listing from bland to gorgeous to sold. Looking for some added inspiration to elevate your home? Check out our portfolio and contact us today!