Did you just buy your first home ? How exciting, you spent soooo much time and money and now you want to make it your own. I'm going to give you a few tips that are budget friendly.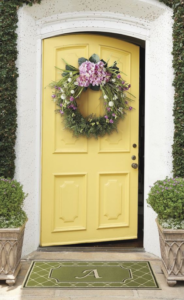 Repaint Your Front Door
Your front door is often overlooked. It is the focal point of your home. You want the front door to be welcoming to friends, family and neighbors that are passing by.
Cleaning your front door and maintaining it will work wonders for reviving the appearance of your home. If your front entranceway is shabby, it can really diminish the beauty of your home. Try painting the door a bold color and hang a wreath according to the season and or holiday. You can make your own by visiting your local craft stores like Michaels. My paint of choice it Benjamin Moore (click on link for inspirational colors).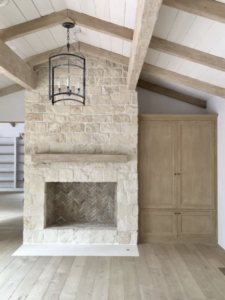 Redo Floors
A common situation that many people deal with is that your house has old, tattered flooring. Perhaps your new home is carpeted and you are considering a change. As such, you might want to refinish the floors. Staining and sealing will breathe life back into your floors and can make your room feel completely different. My recommendation is to do this before you move all the furniture into the home. Consult with a local floor refinisher in your area before you decide to buy new.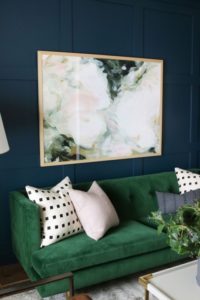 Walls
Adding art work to your walls can add character to your home. Pick out pieces that showcase your tastes and personality. We have found beautiful pieces of art at Home Goods and Target. Find a piece that coordinates with your soundings.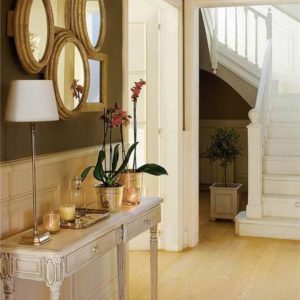 Use Mirrors To Reflect Your Mood
If a room suffers from a lack of light, the obvious answer is to incorporate more light. Luckily, with a few strategically placed floor lamps, creative light fixtures, and mirrors, you can instantly make your room feel bigger and brighter. Light plays such an important role in setting the mood for the room. We have found very affordable mirrors for Wayfair which we use in many of our designs. What is nice about the Wayfair site is you can search by size, color, material, size and price.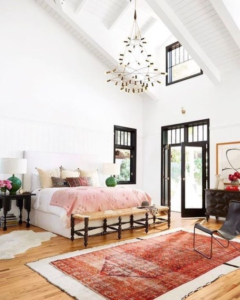 Brighten and Freshen Up
You can incorporate these color and related moods in many creative ways other than painting the walls. Fabrics for your bed, throws and cushions for the sofa, unique rugs are a few examples. Don't forget that plants are an easy way to add some green accents indoors and that accessories, from tabletop decorations to books, can play an important role here! Flowers liven up any space and can work together with other items in the room to create a stylish space.