Its August and its hot and humid out side which requires air conditioning, watering the grass and landscape….which transfers to $$$$$$. You may be asking why I'm I beginning a blog speaking about the amount of money that it cost for air conditioning and water. I'm getting there…..I am doing a study on a home that we were asked to visit the property and come up with a proposal for staging. The home has a odd layout for the family and dining area….The feed back from other brokers determined that staging was needed. There are four bedrooms, with very little living space.
Below is an example of vacant vs staged – For more of our portfolio please click on the link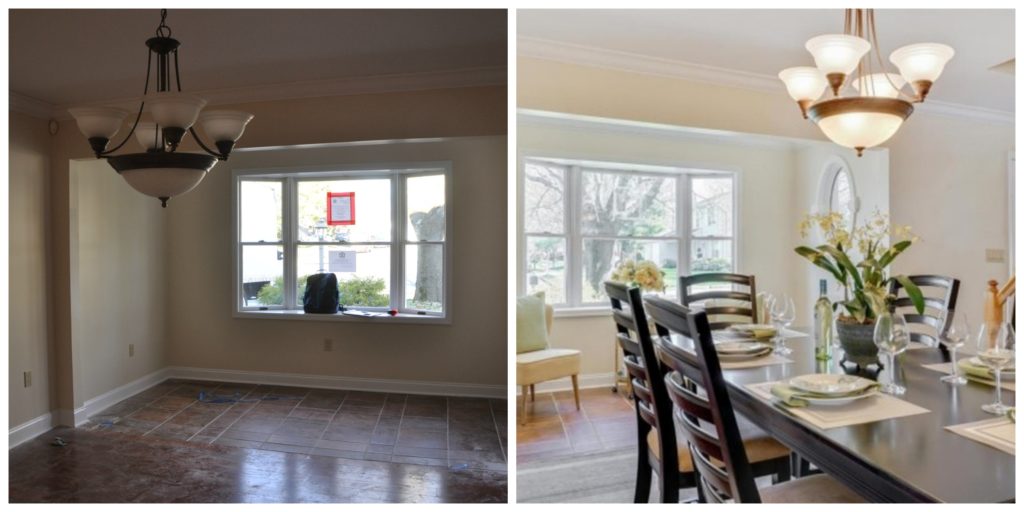 So here are the statistic: It went on the market on April 06, 2016 for 545,00 – We went in on April 15, 2016 to come up with a floor plan and cost for the staging.- We quoted the investors for Dining Room, Living Room, Kitchen, Master bedroom. the furniture rental per month was 1,526. They didn't want to stage due to the cost. April 27, 2016 reduced to 526,000. May 25, 2016 reduced to 499,600. June property reduced again to 449,500. July comes around and the agent calls me and asks me to come up with another proposal, perhaps not including the master and to present to other partner investor in Florida…I do so….July 4th I submit a floor plan and proposal to other partner – We come in at a little less per month without master bedroom. The proposal was not excepted. July 26, 2016 you guess it property reduced again for a total of 115,100 in reductions.

Assuming they have invested 276,00 between purchase and investments in building and landscape.
If their mortgage and insurance is 653.00 per month and their direct expenses a month are 150.00 their total carrying cost per month would be 803.00
Our study shows home owners had their property on the market for an average of 9 months x carrying cost = 7,227.
Had the homeowner's or in this case investors staged first, they would have cut their days on a average of 7 months. Carry costs x 7 months = 5,621 ( which is the price of the staging)….So why would someone continue showing a home that has some deficits with out staging it from the very beginning. I've shared the link below of the property.
1450 Old Freehold Road Toms River NJ
Should you have any questions, please feel free to call me..
Corinne